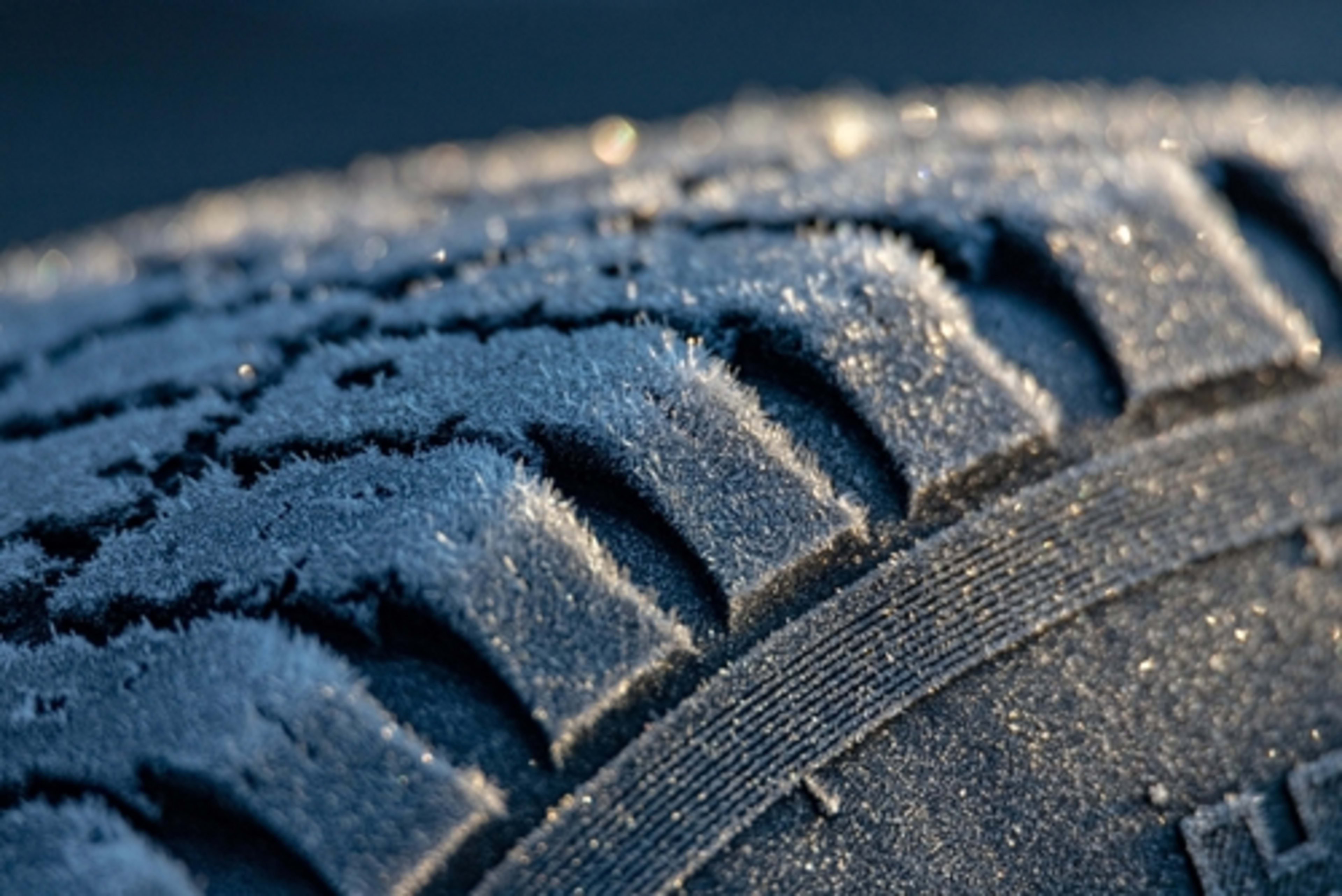 Tire Buying Guides
Winter tire buying guide | Do I need winter tires?
The winter season brings lower temperatures, ice, slush, and snow with it, and while some might welcome these elements, they typically make it harder for your tires to grip the road. Your tires are the only piece of your car that touches the road, so it's vital that they're up to the task.
But with so many tires out there, which one is right for you?
Most drivers use all-season tires because they're built to perform in dry, wet, and light winter weather conditions. That "light" qualifier becomes very important depending on where you live, because all-season tires might not be able to handle heavier ice and snow.
So what do you do if you live and drive in an area that gets a lot of snow during the winter months? That's where winter tires come in.
How are winter tires different?
First, let's talk about how winter tires are different from other tires. As their name suggests, winter tires are designed for use in winter weather when temperatures are consistently below 45 degrees Fahrenheit. To do this, winter tires use a special rubber compound that keeps the tire flexible in below freezing temperatures, which allows for consistent grip.
Think of it this way, a hockey puck is a solid piece of rubber that's used on ice. The compound within the puck is not flexible, which helps it slide across the ice. Winter tires, on the other hand, need to grip icy, snowy, and slushy roads, and their rubber compound needs to be flexible to do that.
It shouldn't be too surprising that you really can't use winter tires outside of the winter months. Sure, some areas dip down below 45 degrees in the Fall and Spring, but those temperatures tend to go up and down.
So, you might be able to use a winter tire optimally one day but, you might be premature wearing tread the following day. The general rule of thumb is to change out your winter tires to an all-season, summer, or ultra-high-performance set once temperatures are consistently above 45 degrees Fahrenheit.
Storing your tires isn't as difficult as it sounds, and you really just need clean tires, airtight storage bags, a climate-controlled spot, and a way to store them.
Winter tire markings
Let's briefly discuss tire certifications here, since those are important to winter tires.
M+S, or mud and snow, is common on all-season tires and is a measure of tread void and not an actual performance measurement. It's just a fancy way to say how much spacing there is between grooves and tread blocks.
Some older winter tires have the M+S rating, and it should be fine for light snow. The industry standard nowadays is Three Peak Mountain Snowflake (3PMS) certified. Unlike M+S, Three Peak Mountain Snowflake certification is achieved through rigorous testing to confirm that the tire can perform in extreme winter weather conditions.
Look for a set of mountains with a snowflake within them on the sidewall of your tire to confirm it's Three Peak Mountain Snowflake certified.
Winter tire types
Now that we covered how and why winter tires are different than other tire types you might be wondering if winter tires are all the same. The short answer is, no. Here's the long answer and some of the best winter tires on the market.
Like most tires, winter tires are available in multiple types to cover different vehicle fitments. The Bridgestone Blizzak WS90, for example, is meant for use on passenger vehicles such as coupes, sedans, and minivans.
Got an SUV like the Honda CR-V? No worries; Falken has you covered with the Eurowinter HS01.
Do you drive a pickup truck like the Ford F-150? Check out the Hankook Winter iPike (RW11) if that's the case.
Maybe you drive a sports car and have ultra-high-performance tires that need to be swapped out. Consider the Pirelli P Zero Winter, which is specifically designed for sports and performance cars in winter weather.
Don't worry Tesla drivers, you have some options too; Nokian, the world's northernmost tire manufacturer, recently released the Hakkapeliitta 10 EV which is built to carry an electric vehicle's heavier weight and increase its range. There's a lot of options on the winter tire market to fit your vehicle and budget.
Winter tire features
Now that you know about the different winter tire types, let's drill down a little bit further and highlight something that's very common with winter tires: studs, which are metal or ceramic or rubber pieces that are embedded into a tire to increase traction.
Winter tires could be available in studless, studdable, or studded models. Studdable tires have tiny holes within them that can be pinned with studs by a technician. This option gives drivers the most flexibility since it allows them to only add studs if they truly need extra traction.
Studded tires come pre-pinned with studs, and you'll likely see bits of silver within your tread if you have a studded tire.
Studless tires, on the other hand, cannot be pinned with studs and rely on their tread pattern and siping to increase traction.
Two important things to keep in mind when it comes to studs:
Tire stud legality: Studs are not allowed in all 50 States, so be sure to check local laws before purchasing a set of studded tires or pinning your studdable tires. While studs are an excellent option for extra traction, they are known to damage bare roads, which is why some areas ban their use.
Ride comfort: This is a minor concern, but some studded tires can be a little bit noisier than other tire types because they have small pieces of metal embedded in them. Decreased ride comfort is the tradeoff for extra traction here.
Some of you might know that winter tires aren't the only tires that can use studs, as some all-terrain and mud tires can be pinned as well. You might think this makes all-terrain and mud tires a good choice for winter, but that's only half true.
While all-terrain and mud tires feature aggressive tread patterns with plenty of spacing between the grooves for strong traction on any terrain, they do not use a flexible rubber compound like a winter tire does so they could struggle to grip the road when temperatures are consistently below 45 degrees Fahrenheit.
SimpleTip
Remember how we mentioned Three Peak Mountain Snowflake certified tires above? Some all-terrain tires actually have this, so we'd recommend using those if you really want to use a set of all-terrain tires in moderate to severe winter weather conditions.
Do I actually need winter tires?
The $400-500+ question, right? If you really do need winter tires it will ultimately depend on where you live and what your weather looks like from November to March or so.
Drivers in southern states like Georgia and Florida can likely use all-season tires year-round, and some might be fine with ultra-high-performance tires assuming the temperatures don't drop too much.
Drivers in the Rust Belt and some east coast cities like Philadelphia, New York, and Baltimore might get moderate snow, so check out all-weather tires instead of dedicated winter tires. Think of these as a cross between an all-season and a winter tire that's Three Peak Mountain Snowflake certified and can be used year-round.
Who are winter tires for?
Think of places that get a lot of snow: the northeast United States, Wisconsin, Michigan, Minnesota, Colorado, Utah, Idaho, Washington, Oregon, and so on. You might not realize it, but winter tires are also a great option in parts of northern Arizona, California, and Nevada that get more snow, ice, and slush than some Rust Belt states.
This isn't to say that winter tires should only be used in areas that get a lot of snow; you know your area and it's winter weather patterns pretty well so use that to inform your decision. Likewise, winter tires are available if you want better traction in ice, slush, and snow than an all-season or all-weather tire could provide.
Still wondering if winter tires are the right choice for you? Give us a call and one of our tire experts will be more than happy to provide additional information that can help you decide if you need winter tires.
Ready to find the perfect tires?
Search By