Rims not included with purchase of tires
SimpleScore™

Our proprietary rating system
for the modern tire buyer.
Professional tire installation near you.
Every purchase includes:
Free shipping
Fast, free shipping on every tire we sell.
Support local businesses
Buy from local distributors, install at local service centers.
Easy returns
We accept unmounted tire returns within 30 days.
Live customer support
Have questions? Live tire specialists are here to help.
Shop with confidence
Top 500
fastest growing company in US
20,000+
certified installers
163 reviews
117

on

SimpleTire
46

from

Google Shopping
Ford F-150 2016 King Ranch 4x4
Nov 10, 2022
Great for the price
Great for the price and looks.
Very pleased with the tires. No more noise then running snow tires. Very good dirt and mud tire. Ride is like running all season tires. All in all best mud tire I have ever run! Too early to tell about tread life.
Very pleased with the tires. No more noise then running snow tires. Very good dirt and mud tire. Ride is like running all season tires. All in all best mud tire I have ever run! Too early to tell about tread life.
2010 Nissan Frontier in 265/75/r16 at 1,500 mi Good for a mud tire! Noise: Have not owned a mud tire before, but I have heard some mud tires howling like a ghoul in your ear at 70mph. These are relatively quiet. Coming from cupped and warn A/T Les Schwab brand, they are much quieter. Before that I had Nitto Terra Grappler gen 1, which were quieter. Dry: Dry gravel roads have excellent grip and pretty good grip on hard packed surfaces, however pavement oddly enough is only ok. All-terrain tires have been noticeably better in dry pavement. Wet Road: These tires suck in the rain, I mean better than worn out A/T down to the wear bars, but not that great on wet pavement for around town. However, they are very resistant to hydroplaning. Wet Offroad: These are King offroad! No surprise, these tires are at home in the dirt and mud. I've been able to drive through deep mud holes at low speed with minimal wheelspin as well as ascend slick hills. I am a weekend warrior; at least two weekends of every month I am venturing off the pavement to either shoot, go mudding, or explore some PNW trails. For me, these are an awesome tire. Honestly, I would likely go back to all-terrains for the future due to lower noise levels (I like music and a quiet exhaust) but I am still happy as it sits now. They also look great.
Chevrolet Silverado 1500 2014 LT (18 Inch Option)
Mar 9, 2022
Chevrolet Silverado 1500 LTZ 2010 w/Z71 Pkg.
Mar 2, 2022
I'm about 65,000 miles in 2.5 years on this set of tires I've been very well pleased with them and about to buy another set I would recommend rotating at oil change intervals
Ford F-150 2016 XLT w/H.D. Payload Pkg.
Jan 24, 2022
60k miles and still have 10k left. Wear perfectly even. No noise after the 10ply 1800 initial miles soften up a bit. Never cup. Great performance in mud, and snow for a M/T. Probably the best tire I've ever purchased.
Ford F-150 2016 XLT w/H.D. Payload Pkg.
Oct 22, 2021
Put these on my 16 F150 with a 4 inch suspension lift. Immediately drove down to FL from WI aprox 1300 miles one way. LOUD AS ALL GET OUT... that is until I got to FL and they immediately quieted down. These are 10 ply tires and take awhile to soften up a bit and break in. They balanced like a dream. No pull or wobble at all. But when they were new and pumped up to 45lbs they did hop like a kangaroo at 85 on the interstate coming around bends, especially when you catch the lip on a bridge. Be warned until they soften up. Just go easy with them bc I've hopped an entire lane. I drive more than aggressively around 50-60k miles a year. I'm hard on the throttle. Hard on the cornering. Hard on the brakes. These tires lasted me until 60k and still had another 10k to go before needing replacement. I ignorantly switched up brands to go Bigger from the 33x12.5x20 to the 35x12.5x20 and I can tell you.. I regret it every day. These tires dont wear uneven. They dont need excessive rotating. They dont cup. Little loose end in the rain and snow. But for a MT these are the best you can buy with your dollar. Bar None.
Toyota Tundra 2018 SR5 w/aluminum wheels
Oct 19, 2021
Tires were great and the fact that you fixed your mistake was nice, but the huge interupt caused a big change in plans and I wasn't a fan of having to call you multiple times because you failed to pay the installers
It's a very good tire ONLY only for mudding, if you plan on daily driving these are not for you as I had these tires balanced twice within a month and they still ride like garbage (wheel hop) if I were to go back in time I would spend a little more $$$ for quality mud tires
See all customer reviews
Get technical:
The Atturo Trail Blade M/T is a mud terrain tire that's designed for use on Jeeps, light trucks, and SUVs. An extra-deep tread pattern with stone ejectors guards the grooves and casing from damage while also enhancing traction, and the Trail Blade M/T's reinforced sidewalls reduce the risk of scuffs, punctures, and other damage for a longer tread life.


Features & Benefits

Designed for use on Jeeps, light trucks, and SUVs
Wraparound lugs at shoulder boost lateral traction in ruts
Reinforced sidewalls resist damage
Stone ejectors built into grooves to protect casing from damage while also providing consistent traction
Offers drivers solid handling and performance on paved roads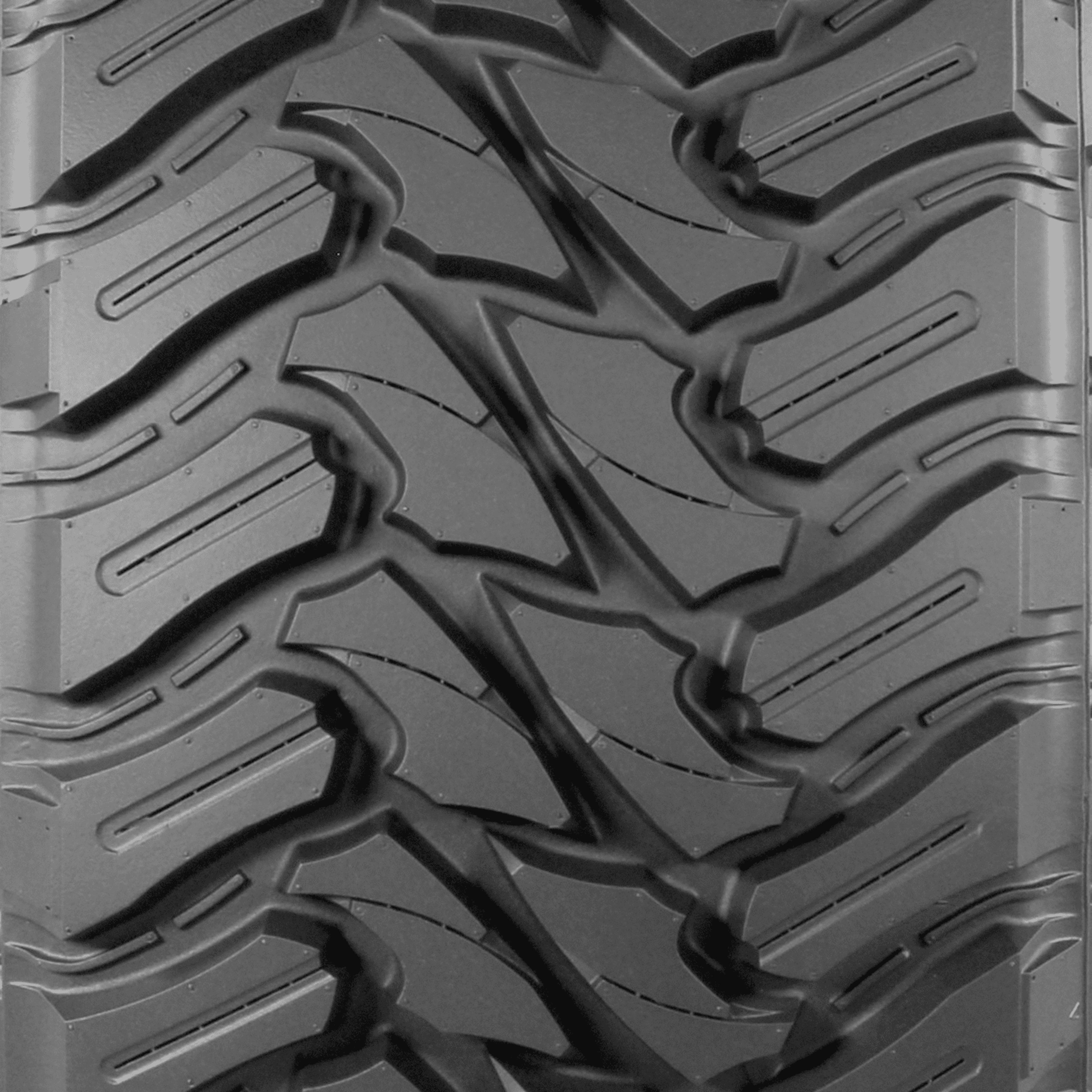 Any info you'are still looking for?
Have a question about Atturo Trail Blade M/T tires?
Atturo Trail Blade M/T tires are manufactured by Federal Tire Corporation in Taiwan. Atturo is headquartered in Illinois.
Yes, Atturo Trail Blade M/T tires are a good choice for drivers of Jeep, light trucks, and SUVs that want to drive in mud, dirt, sand, and other off road terrains.
Best Rated Mud Terrain Tires
More from Atturo
Trail Blade M/T ∙ 34 sizes available