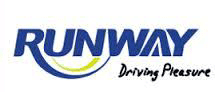 Runway All Terrain Tires
All-terrain tires from Runway offer superior handling in all terrains whether you're off-road or driving on regular pavement. Runway features like an off-road tread compound and multifaceted tread blocks mean traction in the rough, while you can still enjoy low noise, predictable handling and a forgiving ride on pavement. All-terrain tires from Runway also feature the industry's M + S symbol, denoting that they meet standards for performance and traction in winter conditions. You'll get what you expect with Runway all-terrain tires; they are tough and durable.
Select tire size for better results!
2 Tire Results Found
2
Sort By
Refine
FREE SHIPPING
SALE:
5% Off Tires For Your Car or Truck
$
132.92
$
126.27
126.274
$
505.10
Set of

4
FREE SHIPPING
SALE:
5% Off Tires For Your Car or Truck
$
161.92
$
153.82
153.824
$
615.30
Set of

4