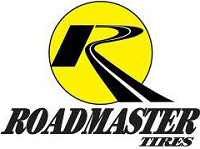 Roadmaster RM234 Tires
Regional Haul, All-Position Application. The RM234 is a premium regional all position tire designed for high scrub applications. The deep tread grooves and premium tread compound provide excellent treadwear and cut and chip resistance.
Deep Tread Depth: 22.5/32" tread depth provides extended mileage in high scrub applications.
Premium High Scrub Tread Compound: Premium tread compound developed to increase treadwear and provide solid protection against cutting and chipping.
Stone Ejectors: Stone ejectors in the tread grooves protect the casing from stone penetrations
Four Full-Width Steel Belts: Four full-width steel belts provide durability, casing integrity and a performance-designed footprint.
Curb Bar: Curb bars on the sidewalls protect them from curbing damage preserving the casing for retreading.