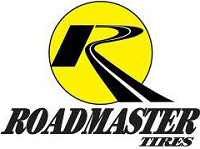 Roadmaster RM230HH Tires
On/Off-Road, All-Position Application. The RM230HH is an on/off-road all-position tire designed to handle heavy hauling. The robust tread pattern, tread compounding and high tensile strength four-belt package combine to provide the retreadability, treadwear, and cut and chip resistance that your fleets require.
Cut and Chip Resistant Tread Compound: The cut and chip resistant tread compounding is specifically designed to perform in mixed service applications.
Stone Protector Ledge: Stone protector ledges on all grooves resist stone penetrations.
Curb Bar With Sidewall Depth Indicator: Protects the sidewall from scuffing damage and indicates when a tire should be rotated to preserve the casing for retreading.
Deep Tread Depth: 22.5/32" tread depth provides extended tread life in on/offroad applications.