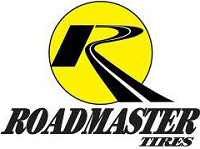 Roadmaster RM230 WB Tires
The RM230 WB is a heavy-duty wide base tire. The aggressive all-position tread pattern performs excellent on the front end of a dump truck, or in trailer or drive positions in mixed service applications. The application specific tread compound and heavy duty belt construction will deliver the cut and chip resistance and durability that your fleets want.
The aggressive tread pattern has biting edges to handle the mud and sharp stones and provides excellent all-position traction and handling.
The cut and chip resistant tread compounding is specifically designed to perform in mixed service applications.
Four heavy-duty steel belts enable hauling heavy loads with the assurance of the tire's durability.
Stone ejectors in the bottom of the tread grooves protect the casing from stone penetrations.
Select tire size for better results!
2 Tire Results Found
2
Sort By
Refine
SALE:
10% Off Commercial Tires: Ends April 30th
$
414.99
$
373.49
373.491
$
1,493.96
Set of

4
FET : $31.90 per tire
SALE:
10% Off Commercial Tires: Ends April 30th
$
500.99
$
450.89
450.891
$
1,803.56
Set of

4
FET : $37.33 per tire