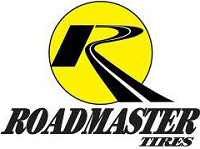 Roadmaster RM180 Tires
Long Haul, Steer Application, Smartway Verified. The RM180 is a long haul steer tire that is SmartWay verified. The modern tread pattern and high tensile strength four-belt construction combine to provide the retreadability, treadwear and fuel efficiency to meet your fleet's requirements.
Smartway Verified Low Rolling Resistance Tire: Tire design and rubber compounding provide low tire rolling resistance and contribute to fuel efficiency.
Modern Highway Tread Pattern With Optimized Footprint Shape: Computer designed tread pattern and footprint shape providing even wear and minimized strain energy density
Decoupling Grooves: Resist uneven shoulder wear in long haul applications.
Evolving Groove Shape: As the tread wears down, the groove shape changes to maintain traction throughout the life of the tread.
Micro Sipes on Grooves Edges: Provide enhanced traction in wet road conditions and resists "river wear."