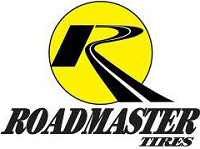 Roadmaster RM120 Tires
Long Haul Trailer: Wide shoulder ribs resist scrubbing and rib edge sipes promote even wear. Stone ejectors enhance casing durability by helping to prevent stone drilling.
Engineered for Retreadability: A cool-running base compound, combined with the 4-belt construction is designed to resist stone penetrations, to deliver the durability and retreadability fleet owners expect.
Multi-Purpose Size: The 255/70R22.5 is designed and acceptable for use on trailers, straight trucks and recreational vehicles.