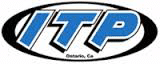 ITP Quadcross MX Pro Lite Tires
The new MX PRO features a revised profile for greatly improved predictability and side bite.
We race what we sell. Soft "works"-like rubber compound sets a new standard on hard-packed tracks.
Based on the R&D assistance of Factory Yamaha and Kawasaki ATV MX teams, the new QuadCross MX PRO front and rear combo will cut seconds off any rider's lap times.
The QuadCross MX PRO Lite also features a new 2-ply carcass utilizing a sidewall apex design that stiffens the sidewall during side loads without compromising ride quality. Acceleration, braking, cornering and overall balance and feel have all benefited from this new carcass.
A tried-and-true tread pattern, especially on hard-packed track surfaces.
The rear QuadCross MX PRO Lite comes with an all-new rubber compound as well, a high-tech formulation that offers superior grip while still delivering extended wear characteristics. This is not just a softer tire that hooks up well for three laps and is then ready for the dumpster! This is a pro-level tire now being made accessible to all racers.