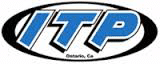 ITP Holeshot MXR6 Tires
An ideal choice for loose track surfaces, with wider-spaced split knobs for better bite and clean-out.
Front MXR6 features a new, longer-wearing tread compound - more motos per tire!
Rear MXR6 uses a new reinforced carcass; minimizes stretching while maintaining a flat profile, providing consistent feel and performance.