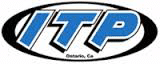 ITP Bajacross Tires
Extened-life rubber compound and innovative overlapping tread pattern provides a smooth, predictable ride as well as slow wear characteristics - this is the highest-mileage tire ITP has ever produced!
Super deep Rim Guard feature offers the best wheel lip protection in the business.
Wrap around lugs provide improved shoulder protection.
Advanced radial carcass design delivers the most comfortable, trail-compliant tire available.
Stepped lugs provide consistent tread edges as the tire wears, for predictable performance throughout the long life of the tire.
8-ply rated RADIAL construction has produced our most rugged, durable tire yet!
Excellent on heavier ATVs too!
Proven to handle the toughest and heaviest UTV applications.