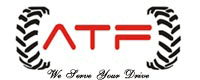 Farmking Tractor Front F-2 3-Rib Tires
Similar to the Tractor Front F2 4-Rib, this tire features three ribs for steering control on tractors. Ideal for conventional or tricycle-type front ends; rubber compound resists wear and damage.
3-Rib front farm tire
Excellent steering control for all soil conditions
Rubber compound designed to resist wear and damage
Select tire size for better results!
3 Tire Results Found
3
Sort By
Refine
Farmking
Tractor Front F-2 3-Rib
Part Number:

1584516061

Load Range:

C (6 Ply)

Type:

Farm
FREE SHIPPING
SALE:
Save 10% on thousands of tires! Coupon Code: JAN10
$
64.92
$
58.43
58.428
$
233.71
Set of

4
Part Number:

1584611164

Sidewall:
Load Range:

F (12 Ply)

Type:

Farm
FREE SHIPPING
SALE:
Save 10% on thousands of tires! Coupon Code: JAN10
$
166.92
$
150.23
150.228
$
600.91
Set of

4
Part Number:

1584611063

Sidewall:
Load Range:

E (10 Ply)

Type:

Farm
FREE SHIPPING
SALE:
Save 10% on thousands of tires! Coupon Code: JAN10
$
140.92
$
126.83
126.828
$
507.31
Set of

4