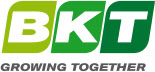 BKT Trac Grader + (G2) Tires
Rugged sturdy tires for drive wheels of off-the-road equipment.
Tough carcass and special tread compound with weather and ozone resistant properties to withstand cuts, snags and bruises in the most severeoperating conditions.
An open spaced traction pattern with self cleaning property provides traction capability available in "Trac Grader+" and "Super Grader" Patterns.