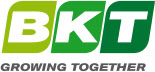 BKT TR678 Tires
Industrial and OTR Tires / Excavator Tyres This is a newly developed wide pattern, meant to replace dual fitment tyres. Specially engineered patterns ensure good traction and self cleaning properties, combined with good on-road handling.
Forestry traction tyre with Robust lug design provides excellent traction & self cleaning capability.
The strong casing construction guarantees heavy load carrying capabilities and steel belts protect the tyre from punctures and damages.
Specailly designed cut resistance Tread compound (CRC) provides excellent cut and chip resistance under severe terrain conditions.
Suitable for use on Forestry Harvester machines.