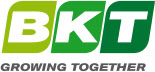 BKT TR126 Rear Tractor R-1 Tires
R-1 Bias Tractor Tire
Tyre designed for small tractors.
Deep lugs provides excellent traction in wet soil.
Optimum spacing between two lugs gives good self cleaning property.
Suitable for paddy and moist soil.
Heavy duty drive wheel tyre with dual angled tread lugs, which provide high traction and long life in both, field and on-the-road operations.