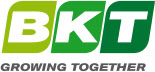 BKT Tires
BKT Tires made its name with off-highway tires back in 1995, when they began production of cross-ply-design tires for off-highway use. Today, BKT stocks over 2000 models and sizes, for applications such as ATVs, earth movers, agricultural, construction, port, freight handling, ATV, turf-care and industrial tire models.
More than 90% of BKT's tires are exported to over 120 countries and across five continents, encompassing all the major markets in Europe, the Western hemisphere of North and South Americam Africa, Asia and the Middle East region. It's taken diligent market research and intensive design and production work, but today BKT has three state-of-the-art tire manufacturing plants across India to keep up with demand in a worldwide tire market.
SimpleTire stocks a wide range of BKT models and sizes for your off-highway needs!
· BKT Agrimax RT 657 (R1W) – Deep-lug tractor tire with chevron lugs and agricultural tread compound – ideal for farming use
· Earthmax SR50 Radial Loader Tire – Tough, durable off-road tire with tread pattern optimized for traction on loader-type vehicles
FARM TIRES
INDUSTRIAL TIRES
OTR TIRES
LAWN & GARDEN TIRES
ATV/UTV TIRES
GOLF TIRES
TRAILER TIRES
Need Help?
Contact Us Today!
888-410-0604
7 Neshaminy Interplex Drive
Suite 215
Trevose, PA 19053-6974
[email protected]