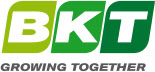 BKT MP 513 Tires
Agriculture & Forestry Tires / Radial MPT tyres - Multimax
The Multimax MP 513 is with strong nylon casing, reinforced by steel belts, which allows it to carry heavy loads at high speeds.
The reinforced bead and shoulder area guarantee longer service life, and more mileage due to the tough tread compound.
It also provides exceptional resistance to puncture and damages on heavy job conditions.
The durable and flexible carcass allows an excellent driving comfort.
The tread pattern is designed for the best traction and self cleaning properties on soft soil.