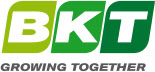 BKT FS-216 Forestry Tire Tires
Agriculture & Forestry Tires / Forestry Tyres " LS2
Robust lug design with optimum angle & wider width provides excellent traction for log & skidders.
Specially designed cut resistance Tread compound (CRC) provides excellent cut & chip resistance under sever terrain conditions.
Steel belted construction with heavy duty nylon casing gives puncture proof performance and longer tyre life.
Thicker sidewall, stronger bead & rim guard protect from external damages.