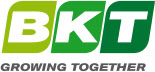 BKT AT 110 Tires
ATV and Go Kart Tires / Utility Tyres
Re-inforced extended knobs increase control in mixed or hard packed terrains
Elongated knobs have been angled to promote more precise control and tracking.
All sizes come standard in a tough 4 ply rating nylon casing for added protection in rough terrain.
Natural rubber compound increases puncture resistance and extends tread life.