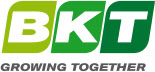 BKT Agrimax Teris Radial Farm Tractor Tires
Agriculture & Forestry Tires / Radial Harvesting Tyres - Agrimax Teris
Agrimax Teris have been designed for the most modern harvesting equipment, where flotation and reduced soil compaction is extremely important.
The casing design, coupled with the large footprint area, guarantees heavy load carrying capacity at low pressure.
The new designed sidewall protector prevents tyre from damages and in combination with multiple layers of polyester belts provide an exceptional stability, handling and riding comfort.