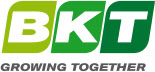 BKT Agrimax Fortis Tires
Agriculture & Forestry Tires / Radial Extra Large Tyres -Agrimax Fortis
Suitable for High Power tractors, allows to carry very high loads at low pressure.
The special tread designs spreads the load across the footprint allowing even ground pressure distribution and minimizing soil compaction, making Agrimax Fortis also suitable for soil preparation, planting and soil treatments.
The extra strong casing delivers excellent driving comfort, both on road and on fields.
The wide and deep lug design allows minimal rolling resistance, more traction and longer tyre life.