Sigma

»
Stampede Radial AT/S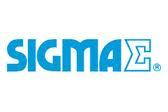 Sigma Stampede Radial AT/S Tires
We carry Sigma tires in multiple sizes. Locate the tire size that works for your car or truck below. Sigma Stampede Radial AT/S tires are a high quality brand and tire line. These Passenger tires are designed to be durable and provide the traction your need for your car or truck application. We offer the best tire prices online and often carry a large selection of Sigma - Stampede Radial AT/S tires. Prices can change frequently due to tire market prices so get your tires now at the currently listed prices.
Computer Generated Tread Design For Superior All-Terain Performance
Deep, Aggressive Tread, With Lateral Slots And Notched Elements For Exceptional Traction
Variable Tread Element Positioning For A Quiter Smooter Ride
Wrap Around Shoulder Elements Provide For Improved Traction On Soft Surfaces
Optimized Tire Profile For Improved Wear And Handling
50,000 Mile/48 Month Mileage Warranty (P-Metric Only)
Enter Zip
Why?
* Enter your zip code to see shipping estimates.
Other Sigma Tire Lines
Related Tires