Sigma

»
Regent Touring TR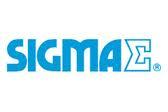 Sigma Regent Touring TR Tires
All Season Traction
Steel Radial Performance
S, T, H, V Performance Rated
W&M - Free Replacement 1st 50% Treadwear
Advanced Rubber Compounds
Ventless & Segmented Mold Construction
60,000 Mile / 60 Month Mileage on H and V Rated Sizes.
70,000 Miles / 60 Month Mileage Warranty on S & T Rated Sizes.
Enter Zip
Why?
* Enter your zip code to see shipping estimates.
Part #
Size
Rating
Price
Availability