Runway

»
Enduro 716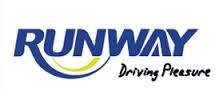 Runway Enduro 716 Tires
We offer Runway Enduro 716 tires in many different sizes. Locate the right tire size that works for your vehicle below. Runway Enduro 716 tires are a great tire line and brand. These Passenger tires are designed to be durable and provide the traction your need for your car or truck application. We offer the best tire prices online and often carry a large selection of Runway - Enduro 716 tires. Prices change frequently due to inventory sourcing so get your tires now at the currently listed prices.
Special tread compound
Provides long mileage and excellent grip
Circumferential center rib
Provides better handling and control
Full nylon jointless cap ply
Improves uniformity and tire stability
Equal Force Carcass with dimensionally stable polyester cords
Provides ride comfort and excellent steering response
High-tension bead
Provides excellent load bearing, steering and cornering
Enter Zip
Why?
* Enter your zip code to see shipping estimates.
Customer Rating
Overall
Dry
Wet
Snow
Comfort
Noise
Treadwear
Other Runway Tire Lines
Related Tires
Related Articles