Lionhart

»
LH-Eleven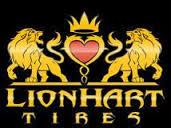 Lionhart LH-Eleven Tires
SimpleTire.com has Lionhart LH-Eleven tires in many different sizes. Get the tire size that works for your car or truck below. Lionhart LH-Eleven tires are a great tire line and brand. These Passenger tires are designed to be durable and provide the traction your need for your vehicle application. We offer the best tire prices online and often carry a large selection of Lionhart - LH-Eleven tires. Listed Prices change often due to tire market prices so get your tires now at the currently listed prices.
The unidirectional Lionhart LH-11 is designed for excellent traction and performance in wet or dry conditions, with a wide and solid shoulder for a great balance of smooth ride, steering response and stable handling. Wide, circumferential grooves to channel water away from the tire's contact patch; tread block pattern computer tuned to minimize highway noise.
Enter Zip
Why?
* Enter your zip code to see shipping estimates.
Customer Rating
Overall
Dry
Wet
Snow
Comfort
Noise
Treadwear
Other Lionhart Tire Lines
Related Tires