Hercules

»
Terra Trac D/T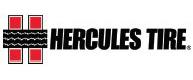 Hercules Terra Trac D/T Tires
SimpleTire.com carries Hercules tires in many different sizes. Locate the right tire size that works for your vehicle below. Hercules Terra Trac D/T tires are a good tire line and brand. These Passenger tires are designed to be durable and provide the traction your need for your car or truck application. We offer the best tire prices online and often carry a large selection of Hercules - Terra Trac D/T tires. Listed Prices change often due to availability so get your tires now at our current prices.
Aggressive and uncompromising, the deep tread Terra Trac D/T is a premium, multi-purpose traction tire designed for a range of on and off-road applications. Digs in to maximize power and efficiency in extreme conditions or tough commercial applications. Built for all-season performance, the Terra Trac D/T also features enhanced stud-hole placements for solid winter traction.
Aggressive shoulder design maximizes traction and rugged appearance
Lateral channel grooves evacuate mud and snow for uncompromising traction
Deep tread that provides versatile all-season, all-surface performance
Beveled tread block edges promote traction and uniform wear
Pinned for studs
M+S rating
Enter Zip
Why?
* Enter your zip code to see shipping estimates.
Other Hercules Tire Lines
Related Tires